2021 Speakers
Who you can hear at the Gathering
Associate Professor of History, Texas State University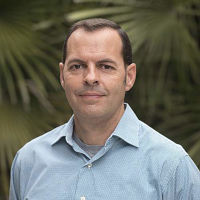 A native of Asturias in northern Spain and distinguished professor, Dr. Rivaya-Martínez specializes in the indigenous peoples of the U.S. Southwest and the Great Plains during the eighteenth and nineteenth centuries. His training in anthropology and history, along with his ability to read Spanish, French, and English, permit him to approach the subject with a broad perspective. He has conducted extensive archival research in Mexico, Spain, France, and the United States, accessing a massive corpus of non-English-language original sources, some previously untapped. He has conducted his research in close contact with members of the Comanche Nation of Oklahoma.
His keynote address at 2:15 PM on Friday, June 18 is on "Comanches and the Land: a Symbiotic Relationship."
---
Award-winning author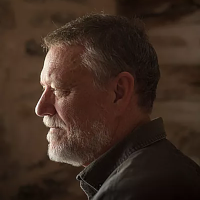 W.K. (Kip) Stratton is the author of nine books, including The Wild Bunch: Sam Peckinpah, a Revolution in Hollywood, and the Making of a Legendary Film, which won multiple awards and was a Los Angeles Times bestseller. He writes frequently for Texas Monthly and Texas Highways magazines and was a freelance contributor on books and culture to the Dallas Morning News for three decades. He's also written for many other magazines including Outside, Sports Illustrated, and GQ. He's one of only sixteen writers to be named a fellow of the Texas Institute of Letters since its founding in 1936. He's also a past president of the organization.
In December 2020, he published "What Happened at Pease River Wasn't a Battle. It Was a Massacre" in Texas Monthly. He will speaking at 1:45 PM Saturday, June 19 on this same topic. Read more >>>
---
Author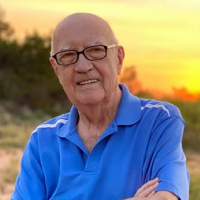 Dennis Call was born and raised just outside of the small farming community of Rigby, Idaho, in the southeast part of the state. Raising beef cattle, milking dairy cows, and raising spuds (potatoes) was the life he knew until his early twenties. After two different careers, he took retirement and is now engaged in his secret passion: writing.
He has written books on personal finance, marital communication and parenting, sales, and leadership, among other topics.
His two novels are set in the Quanah / Medicine Mound area, with a protagonist who is a descendant of Quanah Parker. Dennis will speak at 5:15 PM on Saturday, June 19. Read more >>>
---
Panel discussion with a number of Comanche veterans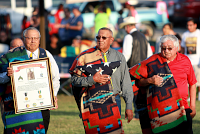 Lanny Asepermy, Sergeant-Major, U.S. Army, Ret. (moderator) and our CIVA panel of Comanche veterans represent a collection of retired soldiers who served in a variety of past conflicts. Comanches and other Native American veterans of foreign wars are often overlooked for their efforts to protect our freedom and our great nation dating back to the Spanish-American war and up through World Wars I and II, the Vietnam and Korean conflicts, and the Persian Gulf Wars.
During World Wars I and II, the United States military used select Native American service men to relay secret battle messages based on words from their traditional tribal languages. "Code Talkers," as they came to be known, are twentieth–century heroes. The CIVA panel at 3:30 PM on Friday, June 18 in the Qunah High School Auditorium will discuss Code Talkers and other topics.
---
Arborist and expert on Indian marker trees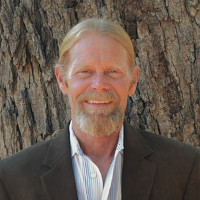 American Indians used trees not only to mark a trail but also to signal the presence of important features, some of which were critical for survival. Indian marker trees are living witnesses to a past way of life, and they are a significant part of this nation's cultural heritage.
Steve Houser is the owner and president of Arborilogical Services, Inc. and is one of the top U.S. experts in Indian Marker trees and the cataloguing of the remaining trees throughout the Southwest. As an International Society of Arboriculture (ISA) Certified Arborist, Steve has been providing care for trees for almost 40 years. Additionally, he has received notable recognition for his work to increase the level of professionalism in the tree care industry. He was one of the first arborists in Texas to be certified by the Texas Chapter of the ISA, and is a Founding Member of the Texas Tree Trails, a volunteer-based program to find, measure, photograph, and recognize all of the significant trees in or near the Dallas/Fort Worth area.
He is speaking at 3:30 PM on Saturday, June 19 in the Quanah High School Auditorium, on the "The History of Indian Marker Trees in Texas." Read more >>>
---
Author and newspaper co-editor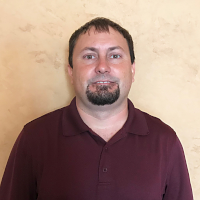 Shane Lance, Quanah native, is the author of two books: Discovering the Past: Stories of Quanah, Texas, Volume 1 and Volume 2. Shane is the co-owner and co-editor of the Quanah Tribune-Chief newspaper and an award-winning journalist for his writings in the Tribune-Chief.
He is known as a Hardeman County historian, and serves as the president of the Hardeman County Historical Society and Museum, and as the Hardeman County Historical Chair for the Texas Historical Commission.
In his presentation on Saturday, June 19 at 2:45 PM, he will take you back to the early days of Quanah, which was a frontier railroad town filled with interesting tales and characters in the late 1800s and bring you up through the present. Read more >>>
---
Educator, author, editor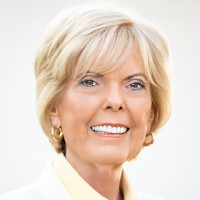 A fifth-generation native Texan, Mahoney was raised on the last frontier in New Mexico on the Llano Estacado. She taught American and Southwest literature in college and in the public system in NM and Texas. She was a college rodeo coach at New Mexico Junior College, and was inducted into the Western Junior College Athletic Conference Hall of Fame in 2020.
Mahoney was co-chair of "Marking the Great Western Trail from Mexico to Canada" across the nine Great Plains states. Three hundred white concrete obelisks (posts) have been placed on the path of the trail. She is the author of Finding the Great Western Trail, Texas Tech University Press, 2015, for which she was awarded the 2016 West Texas Historical Association Best Book of the Year and a 2016 Will Rogers Medallion Award.
She is speaking at 1 PM on Saturday, June 19, in the Quanah High School Auditorium on "How Quanah Parker Recruited the Doan Family to Open a Trading Post." Read more >>>
---
Professor of business, retired; great-granddaughter of Quanah Parker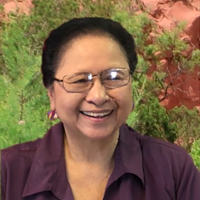 Dr. Jacquetta McClung is a retired business professor, the former dean of the Cameron University School of Business (Lawton, Oklahoma), and a distinguished alumna of the University of Oklahoma School of Business.
She is the daughter of Baldwin Parker Jr., who was the son of Baldwin Parker, son of Quanah Parker. Baldwin Parker Jr. and his wife Marguerite had 13 children, 40 grandchildren and more than 70 great-grandchildren.
Two of Dr. McClung's siblings, Ron and Don Parker, will join her on the Parker Family panel, along with author Bill Neeley. They will speak at 1 PM on Friday, June 18, in the Quanah High School Auditorium. Dr. McClung will be speaking on "The Mennonite Missions and Schools."
---
Author and poet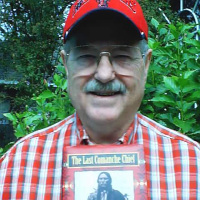 An award-winning author and poet, Bill is a native of the Panhandle-Plains of Texas. Born and raised on a farm between Tule Canyon and Palo Duro Canyon, he grew up with a love of the vast plains and the area's fascinating heritage, especially that of the Spaniards and Comanches.
His book The Last Comanche Chief: The Life and Times of Quanah Parker is considered by many critics to be the definitive biography of the famous Comanche chief. His most recent book A Tejano Knight: the Quest of Don Juan Seguin tells the story of this largely unknown patriot of the Texas Revolution whose efforts on behalf of Texas were crucial to its independence from Mexico.
Bill lives in Lawton, Oklahoma and is currently writing and consulting on Southwest history. He will speak as part of the Parker Family panel at 1 PM on Friday, June 18, on "Comanche Trail of Tears," about the campground located just southwest of current-day Quanah, Texas. Read more >>>
---
Spiritual leader and keeper of knowledge from the old ones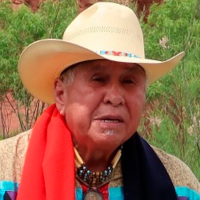 Don Parker, former executive director of the Comanche Nation Housing Authority, travels extensively to tell the stories of his great-grandfather Quanah Parker, and to offer blessings and spiritual guidance from the Comanche tradition and his Christian faith.
Don is the son of Baldwin Parker Jr., who was the son of Baldwin Parker, son of Quanah Parker. Baldwin Parker Jr. and his wife Marguerite had 13 children, 40 grandchildren and more than 70 great-grandchildren.
Two of Don's siblings, Ron Parker and Dr. Jacquetta McClung, will join him on the Parker Family panel, along with author Bill Neeley. They will speak at 1 PM on Friday, June 18, in the Quanah High School Auditorium. Don will speak on "Comanche Spirituality and the Native American Church." Read more >>>
---
Founder, Quanah Parker Society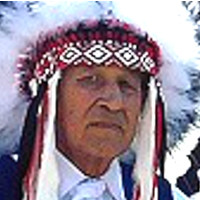 Ron Parker went to Northwestern Oklahoma State University. He then joined the military, was a distinguished soldier in Vietnam, and began his career working for insurance companies. With the Indian Health Services, he worked in Oklahoma, Arizona, Tennessee, New Mexico, and Maryland. After retiring, he moved back to Cache, Oklahoma.
He plans events, gives presentations, and answers questions that people have about Comanche history. "Really, what I do is culture," he said in 2015, quoted in the Fort Worth Weekly. "The world and life Quanah led us into has been good to me." He says he works to "preserve and promote the life of our ancestors." He is now active in the Comanche Indian Veterans Association, and is the founder of the Quanah Parker Society & Center in Quanah, Texas.
Two of Ron's siblings, Don Parker and Dr. Jacquetta McClung, will join him on the Parker Family panel, along with author Bill Neeley. They will speak at 1 PM on Friday, June 18, in the Quanah High School Auditorium. Ron will speak on "The Quanah Parker Society."
---
Author, photographer, and ethnobotanist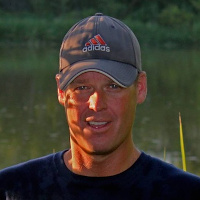 Ben Sandifer is an author, photographer, and environmental advocate for parks and open spaces where he can often be found with camera in hand. His award-winning nature photographs have been featured in local, state and national publications. He is a Certified Master Birder through the Audubon Dallas sponsored North Central Texas Master Birder Program. In 2016, he was named an Honorary Lifetime Texas Master Naturalist for his substantial contributions to the furtherance of the activities of the organization.
In addition to his professional life as an accountant, Ben serves as the naturalist for the historic Dallas Hunting and Fishing Club.
Ben is speaking at 4:30 PM on Saturday, June 19, in the Quanah High School Auditorium, on "Medicine Mound Flora and Fauna." He will cover some of the diverse plants and indigenous sources of food and medicine that these plants produced during the period the Comanches were active in the Quanah area. Read more >>>
---
Consultant for historical organizations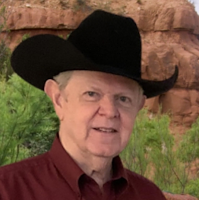 Bob Saul was raised on a cattle ranch that was originally part of the Lazy F Ranch, founded in 1876 and purchased by Charles Goodnight in 1882 as part of the historic JA/Goodnight ranches in the caprock canyons of Quitaque, Texas. He has served as editor, vice-president, and president of publishing companies in Texas and Tennessee, and maintained a dual career as a consultant in volunteer program management for national non-profits while owning and operating a custom software business in New York City.
Bob is the president of History Partners, Inc. and active in historical associations throughout Texas. He is currently serving voluntarily as the Event Producer of the Lone Star Cowboy Poetry Gathering held every 3rd Fri/Sat in February in Alpine, Texas.
He will moderate the Parker Family panel at 1 PM on Friday, June 18. Read more >>>