Comanche Indian Veterans Association (CIVA)
Lanny Asepermy, Sergeant-Major, U.S. Army, Ret., Panel Moderator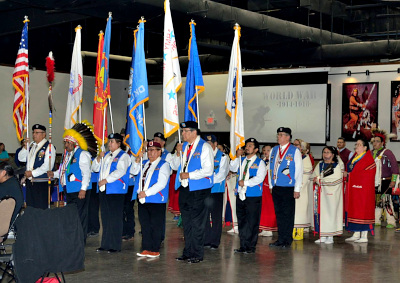 Lanny Asepermy, Sergeant-Major, U.S. Army, Ret. (moderator) and our CIVA panel of Comanche veterans represent a collection of retired soldiers who served in a variety of past conflicts. Comanches and other Native American veterans of foreign wars are often overlooked for their efforts to protect our freedom and our great nation dating back to the Spanish-American war and up through World Wars I and II, the Vietnam and Korean conflicts, and the Persian Gulf Wars.
During World Wars I and II, the United States military used select Native American service men to relay secret battle messages based on words from their traditional tribal languages. "Code Talkers," as they came to be known, are twentieth–century heroes.
Although the Nʉmʉnʉʉ (Comanche) language was utilized in battle during WWI, it wasn't until WWII that an organized code was developed. Twenty-one Comanche men were hand-picked by the U.S. Government to participate in the WWII Code Talker program. Seventeen of those men went on to enlist in the U.S. Army and received training as radio operators and line repairmen with the 4th Infantry Division. The success of several major battles in World War II is credited to Native American Code Talkers whose language and codes were unable to be deciphered by the enemy.
These valiant and patriotic Comanche soldiers, code talkers, and scores of other Native American men and women are credited with saving the lives of thousands of American and Allied soldiers while protecting and defending the U.S. and its interests.
The CIVA panel at 3:30 PM on Friday, June 18 in the Qunah High School Auditorium will discuss Code Talkers and other topics.
For more information:
Facebook
Comanche Nation - Veterans Page